MARIO BALLOCCO: Odissea dell'Homo Sapiens
December 21st, 2010 by admin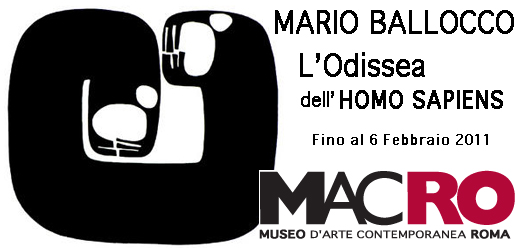 Per la prima volta in mostra gli "Homines" di Mario Ballocco: entità stilizzate inquietanti, crudeli e disperate che incarnano le dinamiche antropologiche e sociali della nostra quotidianità: l'innamoramento, la conflittualità, la sottomissione, il tradimento, l'impegno culturale e politico e altro ancora. I disegni furono realizzati nel contesto della seconda metà degli anni Quaranta, dopo la fase terribile e traumatica della guerra. La mostra è completata da una sezione documentaria costituita dagli esemplari dei dodici numeri della rivista "AZ", fondata e diretta da Ballocco a Milano fra il 1949 e il 1952, e inoltre da cataloghi, fotografie d'epoca, missive e altri materiali utili a documentare l'attività dell'autore.
St. George Roma, un hotel a 5 stelle lusso al centro di Roma, situato in una posizione strategica vicino ai più importanti monumenti della città e alle strade più belle come Piazza Navona, Castel Sant'Angelo e Campo dei Fiori, offre ai propri clienti pacchetti convenienti per questa speciale occasione. Uno di questi è Roma Promo Capodanno:
L'offerta include:
Pernottamento e prima colazione americana a buffet
Gran Buffet di inizio anno consquisite specialità dolci e salate
Trattamento VIP
IVA 10%
La tariffa indicata si riferisce all'intero soggiorno per un minimo di 3 notti
Pacchetto non cumulabile con altre offerte speciali
Orario d'arrivo: 15:00 – Orario di partenza: 12:00
Il Crowne Plaza Rome St. Peter's, 4 stelle superior, a pochi passi dai Musei Vaticani e dal centro di Roma, offre ai suoi clienti pacchetti speciali, per esempio New Year in the Capital:
The offer includes:
Accommodation in a double room
Complimentary American buffet breakfast in our restaurant
New Year's Eve buffet for 2 adults on December 31st with live music entertainment
Entry to the St. Peter's SPA, including use of the sauna, Turkish bath, hydrotherapy pool
Italian Sparkling wine in room
TRAVELLING WITH YOUR CHILDREN?
At Crowne Plaza Rome-St Peter's families are welcome! The accommodation for your children is free of charge up to 12 years of age (when sharing parents' room using existing bedding – 2 queen beds). Kids discounted price for the New Year's Eve Gala Dinner is € 100,00 (from 3 up to 12 years of age).
Posted in Mostre a Roma